We're exactly here.
Almost around the clock.
We deliver from here to your hotel.
Always reachable by email and phone.
How to find us.
We're lo­ca­ted in South Pat­taya in Soi Dia­mond, a small alley bet­ween Pra­tam­nak Road (see pic­ture: alley ent­rance) and Walk­ing Street, right opposite 7-Eleven at the alley entrance. A few meter down the alley is the "Swiss Food" re­stau­rant — we're easy to find!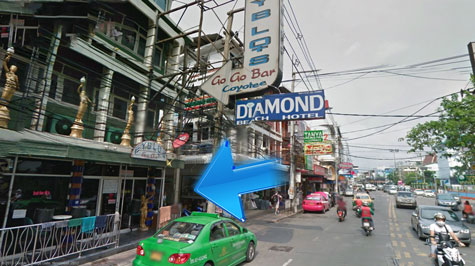 On 4 wheels.
If you visit us by car, you may want to park at Wat Chai­mong­kol's park­ing, 200 me­ters up­hill on South Pat­taya Road from the traffic light/cross­ing with 2nd Road, on your left side (just drive into the tem­ple com­pound; 20 baht park­ing fee, un­limit­ed time).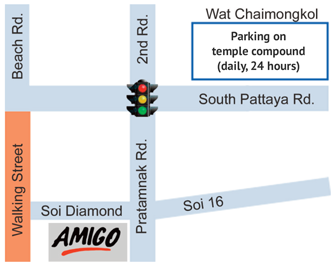 Our GPS coordinates:
12.925389 N
100.874105 E
Website, email:
...and everything from a single source.